Recognition: The Humanitarian Filmmaker Award given to an individual giving to those in need through the art of film.  The inaugural award will go to Actor and Activist Jose Yenque for his work through his organization, Arts for a Better Tomorrow.   Yenque works with youth internationally at Highland Park Continuation High School as well as with orphanage youth in Tijuana. Yenque will be presented the HPIFF Humanitarian Award on October 9th before the screening of the opening film at the Highland Theater.
Film: Yenque stared in the feature comedy "All About The Money" opposite Eddie Griffith and Danny Trejo released on Netflix in 2018 also in Tijuana's popular bi-lingual Si-Fi web series "El Porvenir" by Vigilante Films. Check IMBD for the latest projects.
Causes: In 2014 Arts for a Better Tomorrow – ABT is born! http://www.ArtsBT.org   Yenque created this bi-national 501(c)3 nonprofit organization with the mission of addressing the social-emotional health of abandoned youth in Tijuana's orphanages and centers as well as Los Angeles.  ABT's program incorporates the transformational and healing powers of the theater and media arts, to effect real change and offer positive paths to the future for at-risk youth.  The program uses the ABT network to connect students on both sides of the border through video messaging teaching empathy while creating an international camaraderie and support system. Video Link: https://vimeo.com/120211575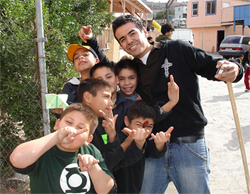 Past Awards:
Yenque has taken the lead in significant humanitarian and educational projects, in an effort to utilize his recognition in the entertainment industry to the benefit of those in need.
Yenque's success with students parallels his success on the screen and stage, and he is committed to weaving together his considerable skills and talents as both an actor and humanitarian.
SPEAKING EVENTS: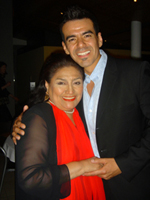 "The Yenque Acting Tradition" with Teresa and José Yenque.
Location: Cal State San Marcos, 333 S. Twin Oaks Valley Road, San Marcos, CA 92096
Come meet Teresa and Jose Yenque, two generations of award-winning actors who have shared the stage and screen with many of the biggest names in the entertainment industry. Their careers have spanned Broadway theatre, Hollywood film/TV, and international and indie productions. Hear their stories of struggle and triumph, view a screening of two of their finest short films (award winners Abuela's Revolt and Wednesday Afternoon), and dialogue with them about their careers and lives. Presented at The McMahan House at Cal State San Marcos.
(Map – site #50, just west of the stadium)
News Sources