Jose Yenque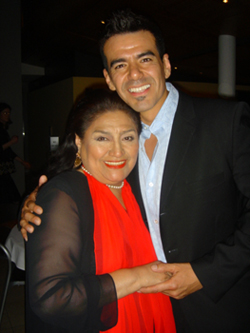 Jose Yenque is a native of New York, who was introduced to the theatre early in life thanks to his mother, renown stage actor Teresa Yenque.   Her example inspired him to give acting a try in his youth, and he found it to be a positive venue for overcoming self-doubt and shyness.
Hard work leads to success
Jose Yenque has over a decade of experience as a professional actor and devoted humanitarian, which earned him an Honorary Doctorate of Fine Arts from California State University San Marcos.
Yenque stars in Blake Freeman's new feature comedy "Mucho Dinero" opposite Eddie Griffith and Danny Trejo slated for early 2015 theatrical release also in Tijuana's popular bi-lingual Si-Fi webseries "El Porvenir" by Vigilante Films.
2012 Imagen Award nomination 'Best Supporting Actor" for his performance as DEA agent Enrique "Kike" Camara in 20th Century Fox's International release "Miss Bala," produced by Gael Garcia Bernal & Diego Luna.  This film premiered at the 2011 Cannes Film Festival, was Mexico's official selection for 2012 Oscar competition for "Best Foreign Film" and also nominated for three 2012 Ariel awards.
In 2012 Yenque produced and starred in the short film "Cans at Dawn"(Botes al Amanecer) a story of resilience in America's inner city youth. The first international screening at was at 2012 Cannes Film Festival's Shorts Corner and has won four festival awards since then.
His past film credits include: Steven Soderbergh's Academy Award winning "Traffic" opposite Benicio Del Toro and Mike Mills' "Beginners" opposite Christopher Plummer, HBO's "The Blue Diner," with Teresa Yenque, and the Academy Award winning short film "Wednesday Afternoon." His television credits include: "CSI Miami," "It's Always Sunny in Philadelphia," "Law & Order SVU,"  "Heroes," "Lost," and most recently in NBC's new comedy "1600 Penn" with Bill Pullman & Jenna Elfman.
Yenque's work has been recognized by numerous organizations within the entertainment industry, including SAG and the NCLR (Alma Award).  In 2007, he earned the Imagen Award for his stand-out performance in Lifetime Network's thriller "Between," opposite Poppy Montgomery which premiered at Sundance Film Festival.
Efforts in support of underpriviledged youth
At the age of 14 years, Yenque's life was turned around by the transformative power of art when his mother New York veteran actress Teresa Yenque (30 Rock, Law & Order) enrolled him in a drama workshop that helped him go from a shy, 230lbs young man who stuttered, to a confident and gifted actor, at home on the stage and comfortable with himself.
Thanks to this life-changing experience, Yenque has a passion for helping teens make it through those sometimes-difficult years, using art as a vehicle for development of life skills and self-confidence.
His 13 plus years of humanitarian efforts and educational outreach include substantive and ongoing service to the youth of the Casa Hogar orphanage in Tijuana, Mexico, motivational talks at orphanages and youth development centers throughout Latin America, and lectures/workshops on high school/college campuses from coast to coast.
In 2012 Yenque created Arts for a Better Tomorrow (ABT), an international arts program that harnesses the transformational and healing powers of the theater and media arts, to effect real change and offer positive paths to the future for at-risk youth on both sides of the border. The program does more than just work with teens in Tijuana orphanages and US inner city public schools. The program uses the ABT network to connect students on both sides of the border through video messaging teaching empathy while creating an international camaraderie. Video Link: https://vimeo.com/88358483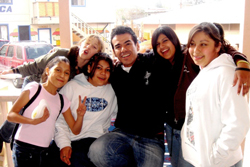 Contributing to higher education
Apart from his work with teens, Yenque has contributed actively to higher education, and has lectured on college campuses from coast to coast.  He has teamed up with Professor Darci Strother at California State University San Marcos (CSUSM) to create a study abroad program which in 2009 gave a group of mostly first-generation Latino students the unique opportunity to participate in a classical theatre festival in Almagro, Spain.  He infused a basic Spanish language class with an acting component, resulting in an outstanding DVD production and an increase in motivation and confidence in students' Spanish-speaking abilities.
And, based on his 10+ years of dedication to the orphans of Casa Hogar Sion in Tijuana (for which he won a Sol Azteca award in 2007), he co-created a service learning opportunity, "Hands Across Our Border," which has brought together hundreds of university students from the U.S. and Mexico to help meet the needs of this extremely vulnerable group of children.  Yenque recently presented and discussed his work at a special session of the Association for Theatre in Higher Education's annual conference, and was met with interest from college faculty across the country.  Professor Kristine Diekman has tapped into Yenque's expertise for several projects involved in her "Video in the Community" initiative.  Yenque served as the narrator and co-producer for "Never Too Early, Never Too Late," a gang-prevention DVD distributed free of charge to families and educational and social service organizations nationwide.  He and Prof. Deikman are currently producing a new dvd and handbook to foster teen pregnancy prevention, an innovative project that will help open up dialogue between parents and their children.
Many interests that go hand in hand
Yenque's success working with young people parallels his success on the screen and stage, and he is committed to weaving together his considerable skills and talents as both an actor and humanitarian.  To this end, he served as a celebrity co-host, along with Al Gore, Michael Welsh ("Twilight"), and others, for the National Wildlife Federation's "Campus Chill-Out," an award show honoring campus' solutions to the global climate crisis. His commitment to social causes includes helping support the Puerto Rican Traveling Theatre through appearing in a 2008 PSA, and in a 2009 virtual telethon for the Foundation for Orphaned, Abandoned and Disabled African Children, alongside Shirley Jones.
Although Yenque has demonstrated his talent as an actor in a diverse range of roles, including playing his share of "bad guys," he is always drawn to opportunities that allow him to combine his passion for acting with his interest in addressing the larger issues of our day.  Catch him in the upcoming film "Happy New Year," dealing with the effects of post traumatic stress disorder on returning veterans, and in "Mamitas," a coming-of-age story set in East L.A., where Yenque plays a character close to his heart: a positive role model for a teenager going through tough times.
Yenque expresses his feelings about being 2010's recipient of the Hola Ilka Award:
"I'm truly grateful to my family, friends, students and all those teachers, role models (and those who will become role models and don't know it yet) for inspiring me to continue to do what I love to do, for guiding me in this wonderful direction, for helping me realize that everything is possible and that giving back is within all of us."